Eat Well and Lose Weight Naturally!
Get the Quick Weight Loss Diet with No Hunger and No Starvation
It is very challenging to choose one quick weight loss diet that you can lose weight naturally and healthily, as there are many diets and trends in the market. You know from experiences of losing weight that you are starving and feeling miserable most of times in dieting. 
Is food your ultimate enemy in losing weight and building up health? Is low calorie diet the right lose weight diet?
In the past, people also ate food every day, why were they not as fat as our generation?
For centuries, people eat well with wholesome food without counting calories, and yet the rate of overweight/obesity is much lower. In 2011 to 2012, it is reported by the CDC (Centers for Disease and Control) that approximately 35 percent of U.S. adults were obese; the rate of obesity among American adults has more than tripled in the last six decades.
What has changed dramatically for the last six decades? What are the root causes for increasing rate of overweight and obesity?
If it is food that causes overweight or obesity, why has the rate of overweight/obesity increased dramatically recently, not in the past?
The Impact of Lifestyle Changes
There are many changes in our lifestyle. One significant change is fast and stressful working pace. In order to survive well, we have to prioritize convenience to good health.
Instant food is everyone's best choice for convenience: instant coffee, instant noodle, instant oat and instant…  Ready packed meals, fast food and many more are available in the market.
All these foods are the best choices in our fast pace lifestyle. We are busy with our work, family life, hobbies, and a lot of responsibilities.
Ready to Eat food is the answer for our fast pace lifestyle. But do you really know what you are putting into your body? Are you sure that you are nourishing yourself with all important and balanced nutrients? Do you understand that your health is put at risk?

The Golden Standard to Choose the Best Quick Weight Loss diet
How to choose a quick weight loss diet? Are there any standards?
Yes, there are. Some of the standards are as follows:
You should feel satisfied without starving yourself

The diet makes you energetic with no weakness in your body

Nourishing your body and every cell inside you without depriving yourself

You can try different foods in different seasons and be amazed by the abundance of nature

Cheaper in cost and easier to prepare



The Best Quick Weight Loss Diet
You can eat well to lose weight naturally and healthily and you don't have to starve yourself and feel weak and miserable.
If losing weight means losing good appetite, you will lose your precious health soon. Good appetite is the sign of healthy digestive system.  You need healthy digestive system to process all the food well enough to be fully utilized by your body.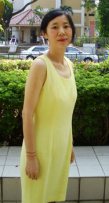 Julia Yuan
I am Julia Yuan, the author of "How to Lose Weight and Build up Health ".  I got my ideal waistline in my mid-forties in 2007 after more than 20 years' struggling and frustration with bloated face and body.  And I have kept that beautiful figure since then.
I am amazed by the wisdom I have found on my tough journey. I wish you could get this vital wisdom without going through the tough 20 years' struggling and frustration.
In "How to Lose Weight and Build up Health ", you will get wisdom about the bad foods which keep you overweight and make you sick. The most important, you will learn to eat well with all the natural and wholesome food, with no starvation and no hunger to lose weight naturally.
Home > Diet